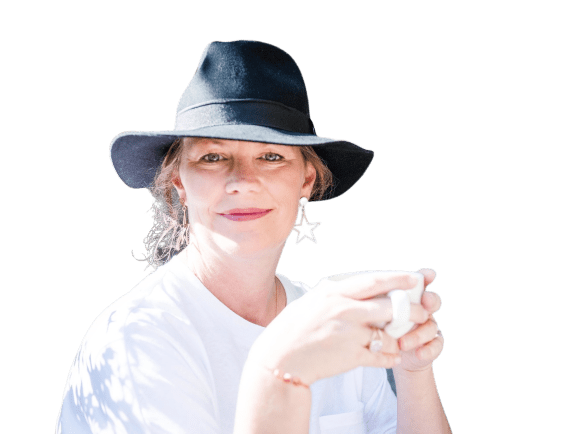 121 Chemistry Coaching to Figure Out + Get More Of What You Want
*  No obligation or commitment
If you're here you're probably a high-achieving creative, in your 40s and above.
That's not to be prescriptive but this is most of my client base which I put down to the fact that I'm also over fourty, I'm teaching something for deep thinkers, and I've grown my own business before and walked away at the height of it's success and reimagined my creative life.
Do we have something in common?
My clients are creators, people of influence and full time bloggers as well as creative business and agency owners.
Maybe you're running a creative business, maybe you've achieved in the workplace. You've achieved what you wanted but now you're not sure if it's actually 100% what you want going forward. Or maybe you don't know yet what you do want, but you know you want more.
When you're unsure if you're truly aligned with what you're doing?
When you think it's too late to build a captivating online brand?
When you think you're having to do all the pitching and aren't attracting what brings you most joy?
When you feel uncomfortable with what it is you truly desire?
Am I right?
This is natural, and what happens is what we wanted when we started out isn't always what we want now. We change and evolve as our experience unfolds.
But something inside you knows it's your time to shine. And that dream of monetising your personal brand and using it to attract MORE of what you really want, deep down inside.
You're like, yeah but how? Why? 
And what if I said it all lies within you, already.
STOP, SAY WHAT?
That's right.
Your secret weapon is you. 
The space is already there for you.
So how do you claim it?
Using my three step unique approach CAPTIVATION SYSTEM to attract MORE of what you want.
Inner Chemistry Factor (ICF)– where you're so confident and connected to your future purpose. This comes down to knowing who you are, reframing your narrative and being clear and confident in knowing what you want.
Brand Chemistry Factor (BCF) – this is the place where your brand, your voice and your secret sauce ingredients are released into the world to generate the IMPACT and INCOME you deserve.
Content Chemistry Factor (CCF)– anyone can learn to create content that leaps out of you and into the hearts and minds of the audience you want to build. I love to help people create powerful pitches, captions, videos and more.
I'd love to help you DIAL UP and TRANSFORM YOUR LIFE!
LUMINATE is my signature 121 chemistry coaching package. It's an always on support package as you figure out what you want and then I'll help you take with the activation to make it all happen.
This is more than business coaching. This is me walking the transformational path alongside you, holding your hand and making you a virtual hot cup of tea as we go.
You'll get:
– Clarity about exactly who you want to attract.
– A really focused and compelling niche brand 
– The confidence to be more apologetically you
– A clear + compelling message that speaks right to the heart of your dream clients told through the art of storytelling
How it works
6 x 60 minute workshops to dive into each of the chemistry factors (this part is entirely catered to your needs, it's bespoke)
Weekly Friday 20 minute catch ups online to celebrate your progress and agree your work on yourself for the next.
My actual CAPTIVATION SYSTEM exploration assignments and templates for converting captions, emails, pitches and PR.
Practical help  in whatever area you need (up to 1.5 hours a week) and an on point messaging framework that truly represents you, visibility practice, landing pages, IGTVs, social strategy, WOM plan. I'll be working on your business alongside you.
We'll chat on WhatsApp whenever you need (day time only!).

Your investment:
£2,900 or 3 payments of £1,050 for a 3 month package.
£5,000 or 6 payments of £866 for a 6 month package.

If you're thinking about launching a whole new business, or large project,or you want to go really deep from the inside out, my support for 6 months is recommended.

Please note that this plan launches in January. I am offering the above package at my current pricing until then (that's £2,500 for 3 months).
Kelly Back

"I can't tell you how valuable my sessions with Ruth have been. Changing direction with my photography business has been difficult, I've had mixed ideas and thoughts for years and Ruth has guided me through the fog, helped me dig deep into my dreams and goals to develop a clear and focused brand plan and vision for the future.  I would never have thought that it was possible to have a business that i'm not only passionate about but works around my lifestyle!"
Claudia De Sabe

"I'm a tattoo artist and with the help of Ruth Hoskins I just launched our family business online. I met Ruth via Mothers Meetings and we met up a few months back. Since then she helped me to find an identity for my brand and have a 5 year plan with it.  She helped me to dare to dream really big and to say out loud what was in my head. I never had a coach and it was a powerful experience. She is so lovely and knowledgable.: Deco Boco 
Book a 30 minute chemistry call to see if we're a good fit.