If you ask people what their favourite food is, it's often a roast, a nostalgic dish from the past – their nana's stew and dumplings, their Italian nonna's famous meatballs, a home-made pie, steak and chips – or, maybe something slightly surreal from the 70's; mushy peas, chicken in a basket, Angel Delight and other things that only rose-tinted glasses make acceptable. 
Comfort food.
But for me, hands down, my favourite food is breakfast. Not just any breakfast; you can keep the croissants, the jam, the pancakes, the cinnamon buns. It has to be savoury.
Give me umami, spices mixed with fried runny eggs, bread laced with garlic, leftover curry, kimchi on toast, rollmop herrings with dill pickles, dim sum, gyozas, anything pimped up with chermoula, romesco sauce, spicy sauce, sprinkles of spring onions, crispy onions and always pickles.
The saltier and tangier the better.
The real deal.
I have laughed, cried, spilled boob milk, watched hundreds of films, spent breakfast time in exotic hotel buffet dining rooms, eaten it with sand in my hair, views onto mountains, beaches, morning street scenes, out of a paper bag on the beach, cooked in a gale outside our camper van.
I love breakfast more than anything else in foreign cities. Eating a delicate omelette in Le Marais, in front of the Spanish steps in Rome, riverside in Porto, in the street food market in Florence. People-watching, soft sunshine and time to think about where we might get lost that day. 
I loved to eat breakfast-on-the go too in Barcelona, picking up a little slice of roasted pizza as I took a morning walk around the city.
Breakfast in bed, at home, is just as good. Brought up on a tray, cooked by someone else, with fresh smoothies, shots of ginger juice, a pot of green tea. My heart melts for crumpled, egg-stained bed linen, smoked salmon served with a whole jar of pickles. Roll-mop herrings.. Oysters. No seafood is ever off the breakfast menu for me. Fried egg, Spanish tortilla with kimchi. Pickled onions on their own. Always. Even better when served with belly laughs after a big night out with your best friends along-side a huge Bloody Mary.
And the more crumbs in the bed, or stuck in the crease in my shorts, or around my mouth, the better.
Pizza makes great breakfast in bed.
I'm painting a luxurious picture but a memorable breakfast doesn't have to be glamorous.
An artisan car picnic in Dover
I remember eating a car picnic breakfast in the queue for the ferry, near Dover. My dad passed me a breakfast picnic bag over his shoulder in our VW Beetle, Pluto. It was about 6am. Car picnics were always feasts in my family; the result of days of mise-en-place for my dad (and me as his willing sous).
The anticipation of that long drive, the car filling up with B&H smoke and petrol fuel, knowing, in the bonnet of the Beetle were zipped up cool bags containing the results of all that prep work. Serious breakfast business.
I unzip the bag. There are two caramelised onion and anchovy tartlets with a few black olives to pimp 'em up and a few creamy mushroom-vol-au-vents, daintily decorated with a parsley crumb and glowing golden with the brushed egg yolks. 
A small orange and a pot of chocolate with breadsticks and some home-made Millionaire's shortbread made by my Grandy – sweet things were acceptable only as a breakfast "pudding".
My kind of breakfast.
On the move: choose eggs (unless there's pizza)
Other than when my dad was the chef, breakfasts on the move can be a bit boring. Especially when you'd rather not eat meat. Anyone who knows me knows I can't bear to have a bad meal. It makes me really bloody hard to travel with. I do feel sorry for my companions.
My general wisdom on breakfasting while travelling is: ALWAYS GO FOR THE EGGS (if there's no pizza).
On the trains to London, the eggs are always OK. On a plane, eggs tend to taste reasonable, especially if you're flying East and can ask for spicy sauce OR you are organised enough to pack some.
If you're that person, you're my kinda person.
Plane breakfasts are funny things aren't they?  I do like the anticipation.
The agony with travel I find, is NOT KNOWING WHICH TO CHOOSE! I always canvas the opinion of the crew, telling them I can't bear to be heartbroken, as they pour me more booze and roll their eyes and pass me the tray.
To make sure of not having an emergency "I can't eat that" situation, I usually have at least one breakfast before I travel, at the airport ideally. Eggs Benedict and a Bloody Mary are needed pre-take off, right? Or a mimosa with a smoked salmon and cream cheese bagel. As long as they have an above-average amount of dill-soaked cucumbers. If in doubt, ask.
Cheese toasties are life-savers
One I'm going to include here, because I do often eat it as a brunchy-kind-of-breakfast kind of dish; it's my go-to when I'm working in a cafe with my laptop to break up the home scenery view (remember when we could go work in cafe's)? My local cafe used to do cheese toasties with mushrooms and hazelnuts. It was so, so good. 
I always have to ask if the cheese is 100% melted, because I can't cope when it's only partially melted. 
I love it when they're in good sourdough, loaded with onion or mushrooms or tomato chutney and pimped up with spring onions, fresh oregano or sun-blush tomato (works really well).
Many cheeses work well for this. Mozzarella, cheddar, emmental. 
When I was at halls in University, my most treasured possession was my  Breville sandwich maker. I used to keep jars of pasta sauce and make them into toasties with cheese; kind of like a pizza breakfast….I think there's a theme…
And that brings me onto:
Leftovers in bed
Just the other week we had some spare pizza dough from the night before. I got up early, remembering what a treat to pad downstairs, reach for the flour, to take the ball of dough out of the fridge and stand in my dressing gown rolling it out, shaping it, stretching it in the way I was taught when I won a pizza making competition aged four (see photo).
I'd par-boiled some thin slices of potato and spread them over a layer of garlic paste onto the dough. Then I put mozzarella slices, some good olive oil, loads of rosemary and sage from the garden and a lot of recently crushed peppercorns.
The breakfast of champions. Not a full English. None of that cold brekky stuff like granola or yoghurt or overnight oats. A hot, pizza-based brekky.
If you come and stay with me, you'd better hope we have pizzas for dinner so I can make you this in the morning.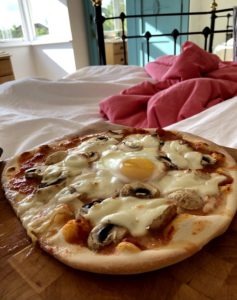 On the general topic of breakfast in bed. I try and not get out of bed to eat breakfast most days. Tony's really good at making us all breakfast in bed, especially at weekends. It might be a veg sausage with cheese and ketchup, soft scrambled eggs with roast tomatoes, some M&S Dim Sum, or leftovers of any kind. 
Dim sum in Thailand
Oh dim sum. Salty, soft, succulents. Dipped in sauce, eaten hot. One of my all-time favourite breakfasts. 
Yes, I know they're not Thai – and I can tell you I have had many remarkable breakfasts in Thailand – but this memory is high up there in my breakfast bank.
A few years ago I was visiting one of my closest friends who lived in Phuket at the time, with her new baby. We were awake in the very, very early hours – those humid nights don't help babies sleep any better. 
My visit started badly. I sat next to someone with a vomiting bug on the plane, and you guessed it, a few hours after my arrival I was chucking my guts up; not a lot of help when the reason for my visit was to help her a bit with the new baby.
I checked into a local bungalow hotel until it subsided, and when I felt a bit better in the morning, she turned up on her moped with a bag full of dim sum, my breakfast dream. I moved back into her apartment, and the next day she took me down to the dim sum place. It was a covered room with twenty or more dim sum makers. 
You just took your pick out of all the stalls and find a table; a box here, some char sui and bao here, more dim sum here. People are sitting around drinking cans of Coke and pots of green tea as the telly blared out so loudly that I find it hard to do anything but sit and absorb it all.
The 5* buffets of dreams
One thing that definitely hasn't happened in a very long time is the hotel buffet. Those pre-Covid days when you went up and picked stuff out, where elaborate tables of fruit displays and juice counters vied for attention with the omelette makers, noodle tossers, fresh fish counter. 
Luxurious, over the top, but once in a while, SO MUCH FUN!
I'm lucky to have experienced plenty; when I was younger I travelled with work a lot. I remember the room service at the W Atlanta; the best eggs Benedict I've ever eaten, sitting on my balcony watching racoons playing down below.
At the Mandarin Oriental in Singapore, where there was everything you could ever want, and more. Oysters, lobster tails dunked in a brandy Marie-Rose sauce. Served with champagne, a side of the freshest sushi and a shot of watermelon juice.
And this is Soho House in Barcelona where you can eat an incredible breakfast all morning and go and sleep it off on the beach.
Bacon butties in Wales
My dearest friend Hester's parents had a gorgeous Welsh bolthole, deep in the lush countryside, a few miles from the nearest village. For us kids – I think I was 9 when I visited – it was nature heaven. Miles of land to mess around in, a barn to explore, a pond, a tree we thought was the Joshua Tree; it was unique in that it was the only tree for miles around, iconic and wild.
We cosied up in bed in our matching nighties that Hester's mum Jennie had made us, billowy dresses in yellow brushed cotton with a horse pattern on, joined together for warmth, with stone water bottles keeping our feet warm. At night we played Monopoly, in the daytime we went out for runs and made treasure hunts to search for things like owl feathers, tadpoles and more.
One morning we went out for a jog on our own. We were nine and eleven I think. No phones, no clue, no map. I think we got a bit lost; quite exhilarating to be racing along the country roads alone, searching for the house.
We can't have been gone too long. I remember arriving home. We were panting, cold, excited. We opened the door to that classic smell – bacon being cooked on the stove deep in bubbling butter.  We ate them on soft white baps, dripping with the hot butter and never has a bacon sandwich tasted quite as good again. 
Breakfasts in the van
And finally, I have to talk about breakfasts in our-soon-to-be-gone camper van, Annie the Van.
We've spent a total of seven months travelling in our camper van. We've camped out wild on deserted beaches, loved exploring the mountainous and wilder areas of Spain, spent a lot of time in the mountains; the Pyrenees, the Alps, tripped around Slovenia and Croatia, and so much more.
Breakfasts are never dull in the van. In fact I got so used to cooking for months on end with just a hob and we never felt limited. Of course it's easy in France where you can breakfast like a Queen on cheese (see main photo), but other breakfasts that taste great, especially when hanging out of the back of a van are home-made smoky beans on toast, stuffed pancakes and eggy bread.
Please, please share your favourite breakfast stories with me below. I could talk about this topic for hours! R xx