Mentoring Packages For Creatives
Crystalise the ideas running through your mind
Photo: Sara Dalrymple Photography
Be 100% you in bringing your mission to life
What a time this has been. If you're feeling intrigued, nervous (in a good way) and curious about what the future holds for you, but you need a way to figure out how to take those seeds and do the work to make them grow, I help people in exactly this situation.
Specific areas I help in:
~ If you're feeling like you want more, but you're not 100% clear on that yet.
I've worked with copywriters who want to write for themselves as well as others, people with books to promote and launch, creatives turning their skill into a course or membership. All of whom had the seeds of an idea, and needed my gentle questioning to figure out the path ahead.
~ When you're feeling burned out
I've walked in your shoes and it isn't pleasant. Sometimes it's good to admit we might have outgrow our business in its current form, and it's time to release the old to make way for the new. I have many, many tools to make this a healing and energy-breeding process.
~ You'd like to get clear on your brand 
Creating a consistent, stand-out, unique brand is a challenge I love. Using powerful words, an understanding of human chemistry and what creates connection (stories), I have a process that ties in my film and screenwriting background.
~ You want to create stronger connections with your audiences
Stronger initial connections are built through creating more impact through chemistry conversations. I'll show you how.
Read This Before You Decide
We have to have the right chemistry…
We've got to be a good fit together to do our best work and for you to get the best result.
And it's cool if we're not. Open and compassionate agreement on that is important.
If you'd like some prompts in advance of hiring me, fill out the form below to contact me and ask for The More Q&A…I will send you a series of prompts to get you thinking…
My job is to:
a) make sure what you are doing is 100% aligned with who you tell me you are. Truth is the measure of success here.
b) Gently guide you to bring out the answers that are already inside you (we'll tap into your intuition).
c) To give you practical help in specific areas I'm an expert in; Pitching, creating strong, compelling communications, seeing what isn't working for you, creating a story around your personality and your brand, figure out a strong messaging framework that you can use as you build your brand, working with the media, influencers and others.
d) Give you tools and techniques such as:
Charging your worth, communicating your value.
Building a solid writing habit that sounds 100% you even if you don't think you're a natural writer.
Accountability.
Share my own experience where relevant.
I mostly work with people who already have a business, in year two or beyond or have a background in marketing or copywriting. People who have achieved a level of success but have a feeling they've grown out of the current iteration of their business and are looking for more.
More purpose….more thought leadership…..more powerful storytelling…..more contribution….more impact….more meaning……more connection.
A 90 Minute Online 'More' Session
To get some clarity on those thoughts, ideas and "what if's that are perpetually circling round in your brain. This is a 90 minute break from your business to think about what you want, tap into my twenty years experience in doing this work, and ten years of running a business, to figure out what feels right for your next chapter.
You'll get a pre workshop Q&A and a follow up sheet with everything we talked about plus any suggested materials / recommendations from me.
£295
90 Day 'Find More' Package
A 90-day package if you want to go deeper into your more. A lot can be achieved in 90 days – more than you'd think. This is if you're ready to make some changes in your life, to shift where you might be right now into a higher gear.
If you have a new product or service to bring to the world, develop an online course based around your skill, launch yourself as an expert into the world, or build a new business or brand, create a podcast etc, this is a great programme for you.
We will have an hour-long workshop every three weeks throughout the 90 days (four sessions in total).
I'll work with you in between all those times to help you with any area you might need: a sounding board, help with crafting your message and bringing your brand to life, making sure what you're doing is 100% you (this is my biggest measure of success), releasing old negative work patterns and turning them into new, healthy and productive habits.
£2,300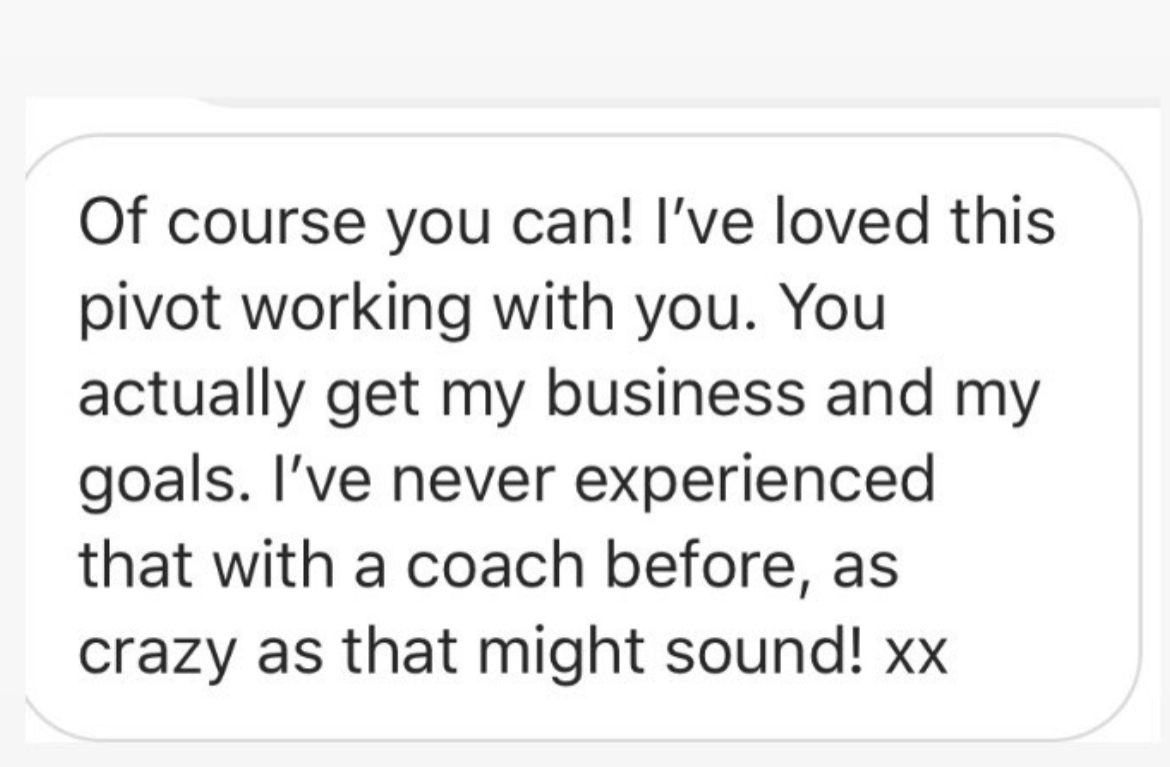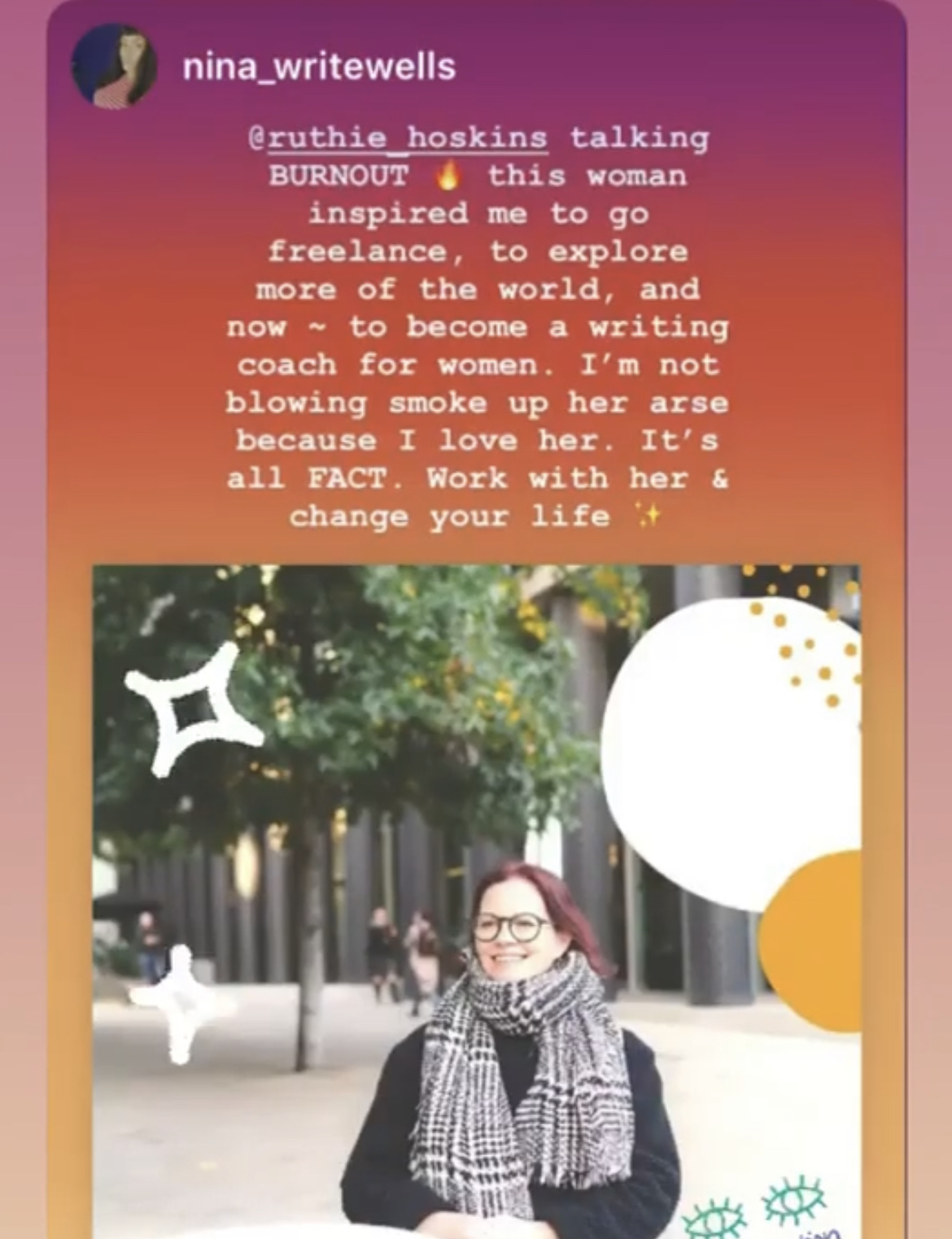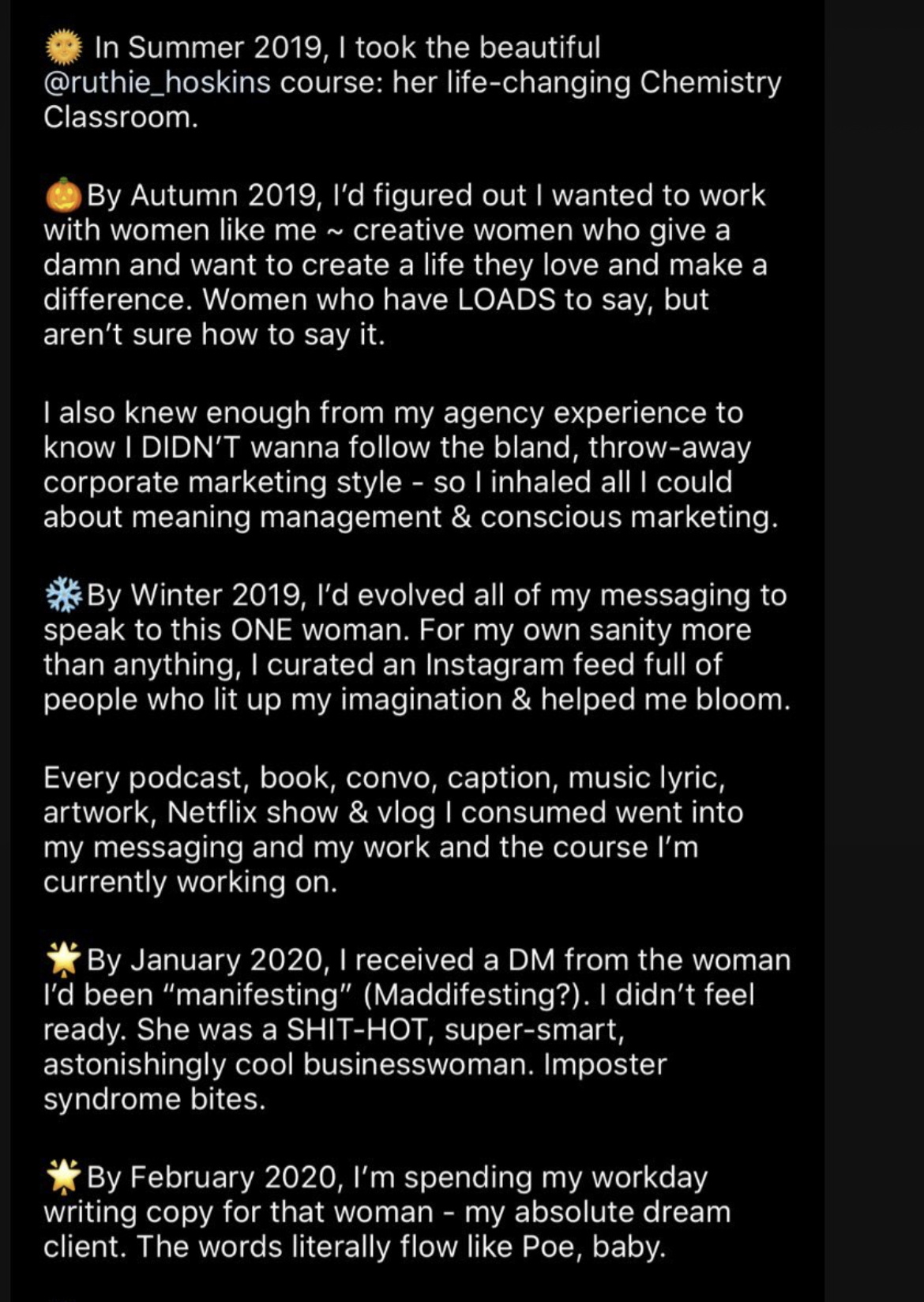 Claudia De Sabe
"I'm a tattoo artist and with the help of Ruth Hoskins I just launched our family business online. I met Ruth via Mothers Meetings and we met up a few months back. Since then she helped me to find an identity for my brand and have a 5 year plan with it.  She helped me to dare to dream really big and to say out loud what was in my head. I never had a coach and it was a powerful experience. She is so lovely and knowledgable.: Deco Boco 
Kelly Back
"I can't tell you how valuable my sessions with Ruth have been. Changing direction with my photography business has been difficult, I've had mixed ideas and thoughts for years and Ruth has guided me through the fog, helped me dig deep into my dreams and goals to develop a clear and focused brand plan and vision for the future.  I would never have thought that it was possible to have a business that i'm not only passionate about but works around my lifestyle!"
Book a 30 minute online meeting with me to discuss your project, goals or knowledge gaps. Let's see if I'm a good fit to help you.
Or Fill Out This Form
I'll get back to you ASAP.