An online programme to be more magnetic in your business, attract more of the clients you want AND turn them into superfans.
Did you know that oxytocin reinforces who we are? As the "love" hormone it both helps to attract and repel, it helps us create meaningful bonds and find the soulmate clients we're going to totally gel with.
Isn't this the best eva reason to switch up your marketing strategy, be a little bit bolder and attract MORE of the TYPE of CLIENT you really want!
The Chemistry Classroom is a self-guided course to dial up your business.
It's going to help you find the chemistry within yourself (aka fall back in love with your business), attract more dream clients and then turn them into superfans.
Even if you struggle with promotion, this is a feel-good and natural way to get your business out there and win the hearts of the people you so want to work with.
Does this flick your switch?
Just imagine, what life would look like if the most dreamy of clients or customers were flocking towards you, begging to buy because you really get them?
Imagine feeling like you've stepped up into the business owner I know you want to be, with the life you want?
On the other side of where you are now, what does it look like? When you're having the impact you want, making the money you want and you're the queen B of your industry when it comes to attracting clients. 
But if you're not prepared to do the work, to go deep and instead are going to continue to do ALL THE THINGS instead, then this programme is not for you.
But, if you're one of the 3% still reading this.
Then I know you know it's almost time. That you are not going to give up on your dream. Because most women do, but I get the feeling you're not most women. Am I right?
And if you're thinking: I'd love this but it's just not the right time I want you to know. The right time is always now!
I know you're in the right place right now and I know you're ready.
And you know what, I'm excited!
My first job in marketing was back in 2001.
Fresh out of uni I came up with the idea for my company's first internet and then got paid to fly around the world training journo's and PRs how to write for the web.
All the retro lolz, but seriously, I know my stuff.
Fast forward to 2010 and I launched a social and content agency that I grew to multiple 6 figures, with clients like Jumeirah, Wedgwood and Waterford Crystal.
But yunno what? I fell a bit out of love working with brands, and all the shizzle that goes with running a big team, and decided to pour everything I've learned into helping women like you learn the art of relationships.
Because chemistry isn't marketing
Chemistry isn't mass
Chemistry feels good
Chemistry is relationships
Chemistry is feeling
So if you're still on the verge, this is what we're going to cover: 
LESSON 1
LOVE YOUR BUSINESS
Aligning our passion + purpose, because if we don't love our business who else will?
The 1 thing you want to be known for
Vision
Purpose
LESSON 3
CONNECTION 
Soulful stories to connect.
Using emotion, language and connection to spark desire with your dreamiest clients.
Uncovering your online voice
The content twist: Flipping the script about the story you've been told about content.
Showing up + visibility.
LESSON 2
CHEMISTRY
Marketing in 2019
The High-Vibe Method for attracting the clients you really want to work with.
A deep understanding of your dream clients and how to empathise and form connections.
LESSON 4
IMPLEMENTATION
An action plan to implement this in your business.
Accountability buddies in the group.
Worksheets to help you take actions.
How this works 
There are 3 entry levels. When you come to check out you'll be asked whether you want to select the self-guided, group experience OR the VIP option and you can buy it all online EXCEPT if you want the VIP payment plan option then please email hi@ruth hoskins.com.
Everyone gets access to the 10 x videos, audio downloads, transcripts and workbooks, including a FAST ACTION BONUS class, a copywriting masterclass with copy coach Nina Cresswell plus surprise bonus additional content.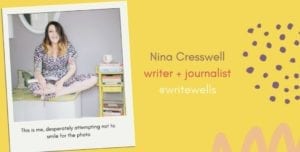 You also get access to a super-supportive Facebook Group, where I host additional masterclasses, that have so far included pricing, money and mindset and extra bonus content will go in there over time. You'll have lifetime access to these (this is priceless).
1. Self-guided 
You get access to all the materials, even as I add in more plus 12 months additional support and mini coaching episodes + Q&A in the Facebook Group.
Early bird rate £197 (rising to £297).
2. Group experience
As per the above but you also get a live, one-hour group coaching call every single Wednesday at 8pm. So far I've covered topics like mindset, pricing, messaging. You'll get your chance to have some hot seat coaching as well as listening to the groups Q&A.s
This is for you if you'd like the extra support to help you implement the materials but aren't quite ready for 121.
Early bird rate is £397 going up to £497.
3. The VIP upgrade
If you want to work with me 121 on this content, you can upgrade to having 2 x 121 calls with me at a super good price of £747 early bird rate. This will go up to £947 on the 1st October.
 IF YOU GET IN QUICK I'M OFFERING A 3 MONTH PAYMENT PLAN FOR THIS, that is 3 x monthly payments of £275 (But you can't buy the payment plan online, email hi@ruthhoskins.com)
This is for you if you've taken all the courses but really need a more intimate and focused experience. You'll be able to really focus in on the art of relationships and how you can make them even more amazing to grow your business in a powerful and feel-good way.