Does the idea of marketing your business freak you out? You're not alone. Marketing for creative business owners can be a huge, confusing headache, so I'm just going to stand up and say this right here, out loud:


Let's ban the M word.
The word marketing conjures up too many images of diagrams and jargon, adding complexity into what is essentially a very human and simple transaction.
The people I work with are writers, photographers, content creators, coaches, yoga teachers, stylists, photographers and other service-based businesses. Small creative service-based businesses don't need complicated marketing strategies. We need to be intimate, quiet and powerful. We need to convey our message to the world in a way that represents us and has meaning.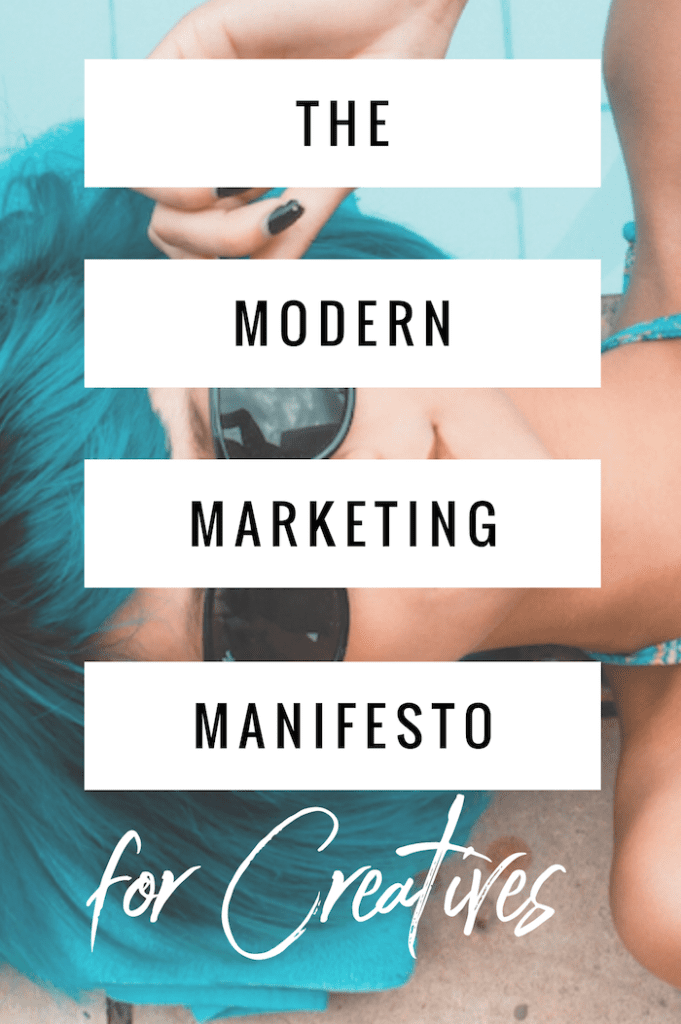 The simple, human act of storytelling instead of marketing
As sellers of service or product-based small brands it's all about attracting and connecting with your community to get them excited and engaged so that they feel compelled to buy from you.
Marketing is just a communication between two or more humans, and that connection is made through stories, experience and content, online and in real life. As humans we are wired to crave connection. Stories really do make our world go round. So it makes sense that as a creative business owner you have to tell your story to sell your product or service.
You have to tell your story to sell it.
Even as an experienced marketer I found marketing my small creative business overwhelming at first. The day I decided to stop reading too much about it, strip back what I was doing and use this approach that I'm sharing with you today.
My 4-step marketing approach
Brand clarity
Knowing who my dream clients are
Content to connect with them at each stage
Community: Connect, serve, collaborate
1. Brand clarity
Branding is the subject of another brand post entirely, but being clear on your brand, story and message is fundamental to your approach.
As a small creative business owner, your brand and your story are entwined. The more of you you put into your personal brand, the more impact it will have on the world.
This brand story is most effective when it carries across every touchpoint, when it oozes personality and point of view. How you make people feel when you and your brand show up and how this reflects in your service. 
In my business I want to infuse people with confidence and positivity. I want my community to feel supported and championed and I try and put that across in everything I do.
2. Knowing your dream clients
In my 20+ years of creating online content, every business I owner who I admire (and there are 100s) have had a deep and intimate understanding of their clients. They invest in getting to know them, in listening to them in real life and online. Listen to podcasts, social media, go to an event.
Dive deep into your dream clients pain points. For example. I know my current and future clients struggle with:
building an audience online.
finding their voice online.
selling their service in an authentic and non-cheesy way.
knowing where to get started with content and their online presence.
they lack the focus or confidence to start to realise their wildest creative dream on their own.
When we know how we can help our audience we can think start to reach them with our message, our brand and our content.
3. Content that connects (at every stage)
Believe me when I say your content is everything.
It's where your story , your message, your experience and your values converge with your dream clients' dreams, hopes and challenges. Your content is your secret weapon.
Your content is your secret weapon that can bridge the gap between you and your dream client.
And when I say content I don't just mean long-form written content.
Whatever type of content you like to produce is fine. It has to work with you and your business.
Maybe you're a photographer or stylist and your photos tell your story so you focus on taking awesome and unique photos of the types of brands you would ultimately like to work for to use on social media.
Maybe you're a fitness coach who loves making short, powerful videos to share and connect on Stories and You Tube.
It's about finding the content that works for you and your business. Whatever type of content, it needs to have the focus on reaching your dream clients and bridging the gap between you and them.
Your content is your own channel . You own your website, blog, email and podcast as well as the content you produce for rented space like social media, other blogs and magazines.
The first step: Showing up
Putting yourself out there can be daunting, but take heart from the fact that people aren't looking for perfection. They are looking for authenticity. They are looking for your story, your message. They are looking for you. They want to know what it's like to work with you. They want to know you as a person. They want to know how you are going to change their life.  They want to connect.
My main message to you here is just to get stuck in.
Don't aim for perfection, just make a start.
The biggest thing I've learned about content in over twenty years of creating content is that the more you create and write, the easier it gets.
Something I hear a lot is: "But I'm not a natural storyteller" and my answer to that is, nobody is.In the words of one of my hero's, Bill Murray:
"I don't think you're born with it (storytelling). You have to hear stories and you have to live stories. You have to have a bunch of experiences and be able to say, 'Here's something that happened to me yesterday….'
The more you read and consume stories, the easier you will find creating your own content.
Telling your story
How has your experience shaped who you and your business are?
For me, I know that my story is made up of a number of things: my experience in growing my last creative business and this one, travelling, mum life, living abroad, life experiences and my point of view (my beliefs, my values). These are all topics that reflect who I am and that I can weave into my content so that people can get to know me.
For example, one of my beliefs is "you have to dream big, plan smart and work with heart" and that has translated into lots of content about mindset, planning and more that I can break down and use across my content ecosystem. Eg:
5 mantras to come back to when negativity creeps in
7 things I learned when I put more of myself into my business
If you do something you love, here are 3 ways it will never feel like work
Also, think about tone. What is the message you are sending through your tone? How do you want people to think about you?
Again, how do you want to make people feel?
For me, I want to show up as a business fairy godmother or cheerleader. A person who's spreading positive vibes and giving confidence to people who yearn to do their own thing but don't know where to get started. So everything I create has to have that vibe and that impact whether I'm sharing "how-to" content or more personal stories.
The base of your content and narrative should be your dream clients pain points. What are they struggling with? What is it that is easy for you, but hard for the people you want to connect with?
Being clear on overcoming any hurdles to work with you can take your dream client from being aware and interested to buying your services, so creating content around your approach and beliefs helps weed out anyone who isn't a good fit, plus makes it obvious who you are and who you really want to work with (saving a bunch of time later on in the buying process).
The three stages to making friends (and clients)
I like to consider my audiences in three phases:
New party pal
School gate mate
Friend
As a fan of simplicity in business, I don't think the world needs any more sales funnels, but my advice is to consider content for each of these relationships stages with your community. For me that looks like:
New party pal's – social posts, free downloads and resources to help them, blog posts, podcasts.
School-gate mate's – people I've made friends with and support on social, Collaborators and peers.
Friends – my monthly journals and other emails to build our friendship.
Of course the goal of this is to move the people you form a connection with from being your new party pal through the phases until you are friends with them. Just like real life!
4. Community: Connect, serve & collaborate.
There are three types of people you want to follow and connect with:
Your dream clients – the people who will buy your services.
Influencers and experts – you don't expect a follow back but you find them inspiring.
Your peer group/collaborators – making friends with other people doing similar work to you so you can support each other.
Where do your dream clients and future community hangout?
Think about where they hangout online and in real life. How are you going to show up and hangout there?
Some people love live events and workshops. Others are more comfortable hanging out and connecting via social media. Either (or both) are absolutely fine. Just think about what feels right for you and what will work with your lifestyle.
Maybe you will attend a couple of small and intimate events that will give you confidence and connect you with like-minded local people. Maybe there are focused workshops or meet ups.
There are a lot of networks for creative female founders that you could explore (if it's your thing).
As with any community, slow and intentional is the best way approach here. Be you. Be social. Serve your people. And serve them over and over again.
The rule here is to be genuine. Like, comment and engage. Follow your dream clients and think of it as "market research" – you'll find out more about them, their struggles, their hopes and their dreams and – importantly – their pain points.
DM and comment on your dream client's posts, establish a relationship with them, tell them when something resonated with you. Find your favourite people to follow and become their cheerleaders.
A tip I often tell people is to follow 10 people every day and engage with them. If they don't engage back then it is perfectly OK to unfollow then (this is NOT the same as the follow/unfollow approach). This is about strategically finding the people who are interested in what you have to say and your personal brand and weeding out who isn't.
Your goal is to build up a tribe of loyal supporters. Follower numbers really are irrelevant. Lots of people have a lot of followers but not much profit. Likewise it is perfectly possible to make a decent profit and only have a small number of followers.
Blogging/guest blogging/podcast guesting
Online, think about the blogs they read. Is there an opportunity for you to write a guest post or submit photos to those blogs if you're a photographer. Remember that people are always looking for fresh, high quality new content so whatever your business, think about what you can give away to your community to serve them (and grow your own profile too – win, win).
Collaboration
Collaboration is a beautiful thing. It's a totally awesome way to make like-minded friends who support each others growth strategies. Having a collaboration plan is a smart move. When you start to reach out and build your community, collaborations will be a natural next step.
I particularly like collaborations that spill offline. Workshops, meets ups and events are much more rewarding and fun when you know the bunch of people.
To close, my main message to you is not to get overwhelmed. What are the simple but purposeful steps you can take to reach out to those dream clients? I'll be diving into some of these issues in a lot more depth over the coming months and on my new podcast. I look forward to connecting with you there.
How do you serve your community? Can you share your experiences of reaching out and connecting with people?
If you are interested in working with me as a creative business coach you can find out a bit more here.