Because you write, or create, for a living then I'm pretty sure you're a heart-wide-open kind of person. We choose this path, don't we, because something inside tells us we have to share our truth and speak our voice in some way?
It's words that unify us, whether we're copywriters, published authors, unpublished authors, communications consultants, speakers or bloggers.
But what a ride being a Company of One is. Those skyscraper high's when you win that project you've always dreamed of, or finally written the book you know is inside you, or the sheer exhilaration that comes with being invited to speak at the festival that's always been top of your list.
We celebrate, oh how we celebrate. All the squealy feels.
But we also experience deep lows; lows that come with being jelly-hearted. We're only human after all. When faced with rejection, a stranger's random comment on Instagram or the fear of what Debbie from year 8 is going to say to her friends, doubt makes us tread more carefully and we often push aside inner hopes and desires.
There have been times that I thought I should be rolling around the floor in some kind of eternal ecstasy because I achieved my dream: I left a well-paid job in communications back in 2010 for more equilibrium. Just a year later I birthed a glowing business in the same year as my first baby. 
Hell, I won a portfolio of major luxury brands over some of the world's best agencies. I held events where Saatchi and Saatchi sent their teams to learn more about the changing digital content landscape. I became an "expert' on the creation and marketing of content for luxury brands. I turned over 30k months with ease. 
But something inside me didn't click. I'm intuitive by nature and it all felt so complicated and unintuitive. I didn't think about it at the time, but working in this world had taken me away from who I wanted to be when I was 18; a writer, a broadcaster, a professional chatterbox, an expert in not following the crowd.
So I never saw what I achieved as success. This world didn't excite me, but it did define me for a long time, and I felt:
Like I didn't have the right equilibrium.

Not confident enough to share how I was feeling.

That I should feel like what I had was enough (it wasn't).

I surrounded myself with wrong-fit mentors.

Like I couldn't follow my heart into mentoring, writing, talking and guiding, all from the heart rather than a "strategy".

Like I had to accept Plan B (the "marketer" label because I wasn't good enough to write, speak, talk publicly.

Not at all proud of the work I was going, if I'm honest
And this is where the tears and trauma come in, for it's only through a major personal situation that I've been able to self-reinvent back into the person I always was.
My story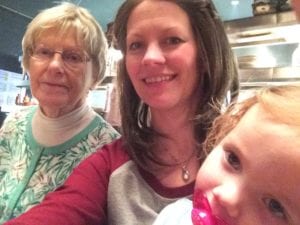 It was late August 2015. The grass was turning yellow and the streets were ablaze with the sounds of summer; the parks were full of strolling families licking ice-creams, rocking babies to sleep in the dozy heat and street performers entertained locals and tourists who packed out the pavement bars and cafes. A happy month for many, but for me it was emotional torture.
I was halfway through eighteen months of treatment for aggressive breast cancer, getting to grips with losing my hair and worrying about being alive for Jemima and Flora, who were 4 and 6 back then. At the same time I was comforting my mum through the last weeks of her life; she was terminally ill with Non-Hodgkins lymphoma. 
Witnessing someone you love's painful demise is impossibly hard on any level, and if you've ever been through it I feel you. At the time, facing my own mortality too, the pain was hard to bear.
The night my mum died I was with her in the hospice. My legs tucked up beneath myself as I sat in the soft brown leather armchair, listening to the sound of her breath getting shallower and shallower. I was watching her slip away right in front of my eyes. Anne. The woman who's underskirt I felt protected hiding in as a child, the woman who held my hand as I came out of a coma aged twenty-one and the woman who's gentle smile has comforted me ever since. 
That night, the August air was humid when I stepped out onto the balcony of her room in the hospice to breathe in the summer night, the fragrant grass swaying in the breeze in the field nearby. I was acutely aware that I was watching her slip into the next world, but also unable to process that this was actually happening. I was still murmuring hopes and prayers that she'd sit up, roll her eyes at my face of despair and we'd have a giggle as I held her hand. "It's going to be alright!" we'd exclaim to each other as wet tears of joy poured down our faces.
Of course, I knew that was never going to happen. But that night, as I folded over the blue blanket on her bed once more, and held her hands – so thin they were almost bone – I made a silent promise to myself and her. That somehow I'd rise from all of this and make the most of whatever time I had left. That I'd stick around to give my girls quality mothering, like she gave me.
The next morning at dawn, my Aunt and I watched her pass away gently, in her typical low-key manner, and as I packed up her belongings as the nurses tended to her, I again resolved to make the most of whatever life I was going to have.
I left the hospice feeling completely broken, but also uplifted by the honour of accompanying someone to the end of life. I thanked the staff and collected my orange Gazelle from the bike racks, my eyes puffy with tears and lack of sleep, and I pedalled to York Hospital for an all-too-familiar date with my chemotherapy cocktail.
As I mentioned earlier, I was also running a "successful" content and social media agency business. I'd worked full-time throughout this disastrous year. We had a team of eight people, global clients to attend to, pitches to write and award-winning work to deliver.
That day, as I sat hooked up to the drugs, I realised that mum dying was a sign from the universe that I had no choice but to move forward. A new chapter that was wholly different from the last; you see, with all that had passed, I had changed. I was not the person that I'd been twelve months ago and it was my duty to let the next chapter unfold.
This was my chance to start my reinvention. And when I talk about reinvention I don't believe that it means to become someone else. Reinvention is about becoming the person you want to be.
"Just be you" I know she was whispering; in those early days there were signs all around nudging me to take some steps towards reinvention.
A few weeks after the day my mum died, I was back in the hospital for another treatment. The chemotherapy ward was full, nurses were doing their rounds, patients were having unwanted hand massages to be polite. Plastic sandwiches were being handed round by kindly older souls "doing their bit". I could have lost myself for hours listening into those conversations but that's for a future film!
We'd just decided to go to Thailand for Christmas with best friends, which felt hard-earned and more than well deserved after the year we'd had.
So I was a little bit surprised when Tony, my husband, had even grander suggestions. "Why don't we move abroad for a bit, he said?" casually. I remember the moment vividly. A machine was beeping, I had my legs curled up under me on the vast chair and I was wearing my The Strokes t-shirt.
My brain immediately filled up with all the reasons we couldn't.
It meant leaving a thriving business that I had worked for five years to build. In turn that had big financial implications as well as feeling like I was letting people down. It meant taking the kids out of their happy school environment and their friends that were already forming deep roots.
It meant walking away from who I was, and quite possibly, never seeing that version of myself again; the very thought of this filled with me with grief, because it also meant walking away from the city and place that I was connected to my mum and dad, both in their new, celestial home.
I couldn't have felt more vulnerable than I did in that very moment. Deep-rooted in grief, with an insurmountable urge to stay connected and rooted to what was, to feel near to my mum and everything I knew; my comfort blanket.
But a flick had switched on inside.
I told myself that self-invention is about finding our way back to the person we always were supposed to be.
Brené Brown says:
"Vulnerability is hard and it's scary and it feels dangerous. But it's not as hard, scary or dangerous as getting to the end of our lives and having to ask ourselves: What if I would've shown up? What if I would've said 'I love you?'. What if I would've come off the blocks? Show up, be seen, answer the call to courage and come off the blocks. Because you're worth it – you're worth being brave."
I hadn't yet heard of Brené Brown and her Call to Courage at this point, but I knew that the calling from 2015 was to find myself, the Ruth who I always was; not Ruth the agency owner, the mum, the cancer patient, the griever or whoever, but me, just as I am.
Read Chapter 2: Absolute Beginners and Breeding Kaleidoscopic Colour From the Darkness.