This autumn, I am investing in myself to feed my business exactly what I think it needs right now: Content that connects. Everything else can wait.


The back-to-school feeling has disappeared with the last of the late summer sun here in the UK and I'm trying not to miss what is my favourite time of year in Barcelona, when the crowds have gone but outdoor lunches in t-shirts linger long into October.
But back in the UK I am loving the start of autumn. It's always such a transformational time of year for me, physically and mentally.  It's a time of new starts and slowing down. For swapping our outdoor life for a cosy, quiet time inside by the fire. It's also always my most productive time of year.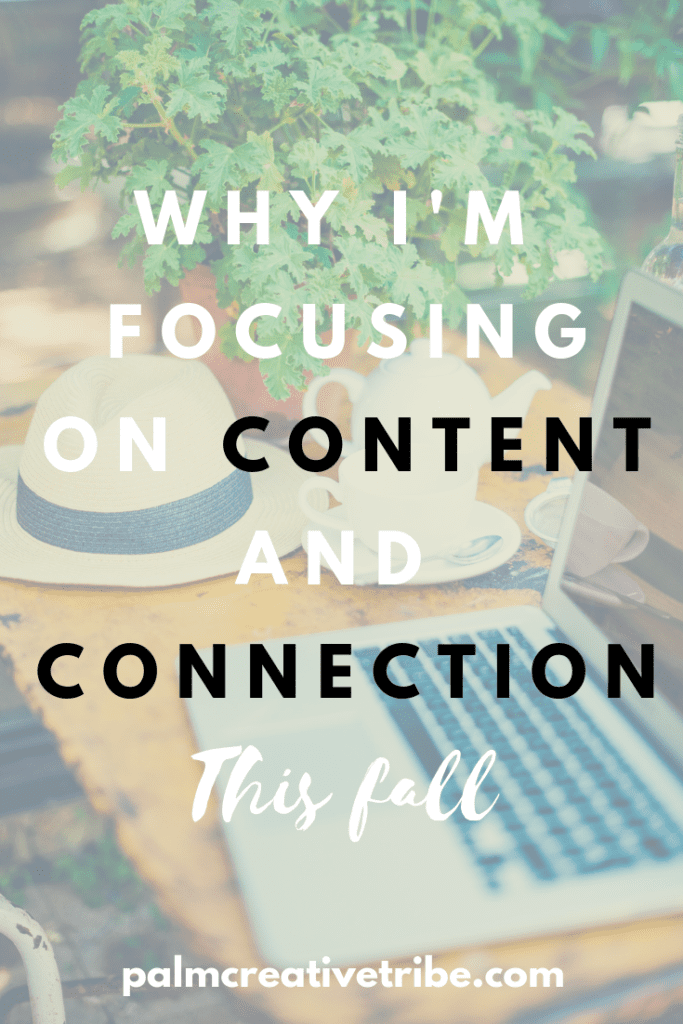 Up until now I have been heavily into planning my new creative business. I've worked on strategy from Croatian campsite bars, had calls with Jen my creative coach from alpine mountain passes. I've even tapped away at my business plan as I watched the sunrise over Lake Garda.
I'm looking ahead to a productive autumn.
But now October is here I'm looking forward to cosying up in my slippers and putting all my focus on the content I write.
As a blogger and longtime content creator that this is the most important thing anyone with a creative business can focus on and I want to carve out the space and time to give my full attention to this part of my business.
I know from the creative business owners I work with that the biggest hurdle they have to overcome is the overwhelm factor. The pressure is on to juggle everything: social media, SEO, PR, admin, financial, networking and countless other things.
I'm no stranger to overwhelm. Setting up a new business and all the things it entails, selling my product, growing an engaged social media following, reaching out and connecting with people I admire, writing and marketing my first course.
Taking my own advice.
So I decided to take some of my own advice.
To slow it down. To give myself time and space to focus on the two most important things that will define how successful my future business is. Creating content that connects me with my dream clients. From now until I close my laptop on the last day of school before Christmas, ALL I am going to do is create content and use it to connect with my future audience. Everything else can wait until the new year.
Here's my plan:
Creating my "signature" or foundational content to help people get to know me.
For long-term success you have to have strong foundations. Whatever your creative business, you can use social media to build a tribe of abundant clients who are longing to work with you. Your content is your secret weapon tool to attract them.
My signature content has to be about the thing I know best, growing a creative, online business. Within the next three months I will write a course, develop a strong social story, 12 articles that I already have the headlines for, three monthly emails where I bare my soul a bit deeper, two workbooks for creatives to download and landing pages for my products.
Listen with intention about what my audience struggles with.
For me, there is no better place to do research on this than social media, listening to podcasts and having real life chats with my creative friends and colleagues.
I am going to carve out the space and time to ask them about their hopes, dreams, fears and challenges and put those things at the centre of my content strategy.
For me that looks like clearing out two days a week to write and create resources that answers those fears. Even if it means I have less time to grow my audience, or "promote" my services, I know that in the long run this is going to be the most sustainable and authentic way I can grow my business.
Tell my unique brand story through my content
I strongly believe that you have to "tell it to sell it", through content and your unique overall brand story. Whatever your business, you need to create content that reflects who you really are and that the first step of a deep connection is that the people you want to talk to buy into you way before any financial transaction is going to take place.
We have to get to know each other first, just like in real life.
With so much "how-to" content on the market, my gut feeling is that my tribe are not just interested in that. There are loads of experts out there, but my unique brand story is all the stuff that has made me the woman and human I am today, and that is going to shape my coaching. Because I am living proof that what doesn't kill you makes you stronger, I am confident that you too can bloom no matter what life is throwing at you.
I value deep and meaningful connections over follower numbers, so I am putting my heart and soul into everything I write so that it reflects who I am as a human.
As my best friend said when she looked at my website, "you've put the truth into Ruth." which made me very happy.
I also want my unique brand story to be visual, through the palms and pastels that remind me of our time living in Spain and keep me going through the cold winter days. I had to bring a part of our experience there into my brand, and this is how it fits in.
Travel to keep myself inspired.
I am so looking forward to monetising what I do, for lots of reasons. Because I want to save up and but a house abroad, because it's important to me to build up a pot for my kids to use in the future, because I want to travel to amazing places. But I'm also happy to be slow and purposeful about it because I know will be best for my business.
But I'm also looking forward to taking a little writing break all on my own, so I can sit and watch some palm trees and write, so I can be authentic to myself and my brand, so I can escape normal life for a few days and put my heart and soul into my content.
So, hurrah for cold days to bring on a season of writing. I cannot wait to get started.
What do you think? How do you invest in yourself and your business?
Clarity + Chemistry Launching June.
Fall in love with your business and book more dream clients.
Clarity + Chemistry is a group programme, with 6 weeks of topics + assignments PLUS 6 months of accountability and support, that helps you find chemistry within your business so that you can raise your vibe and your dream clients FLOCK to you! I cannot wait to share it with you and watch you grow. Sign up here if you want early release info…