Great photography really IS worth the investment for your brand and website. It's a long way from good to great so on-point photography is one of your secret weapons.
I also strongly believe your photos should be fun, relaxed and represent who you are as a human and a creative. 
Kelly Back is a lifestyle photographer based in Richmond, London. I was so happy when she agreed to take the photos for my website that I almost cried. I've been friends with Kelly for years and I knew her natural, pastel-toned and organic feeling style was exactly right for me.
The first thing Kelly did was read my mind! She just knew exactly what I wanted and sent me a mood board that was pretty much what I had inside my head and more! It felt like a great place to start, because she had checked out the locations and I could picture the final shots exactly.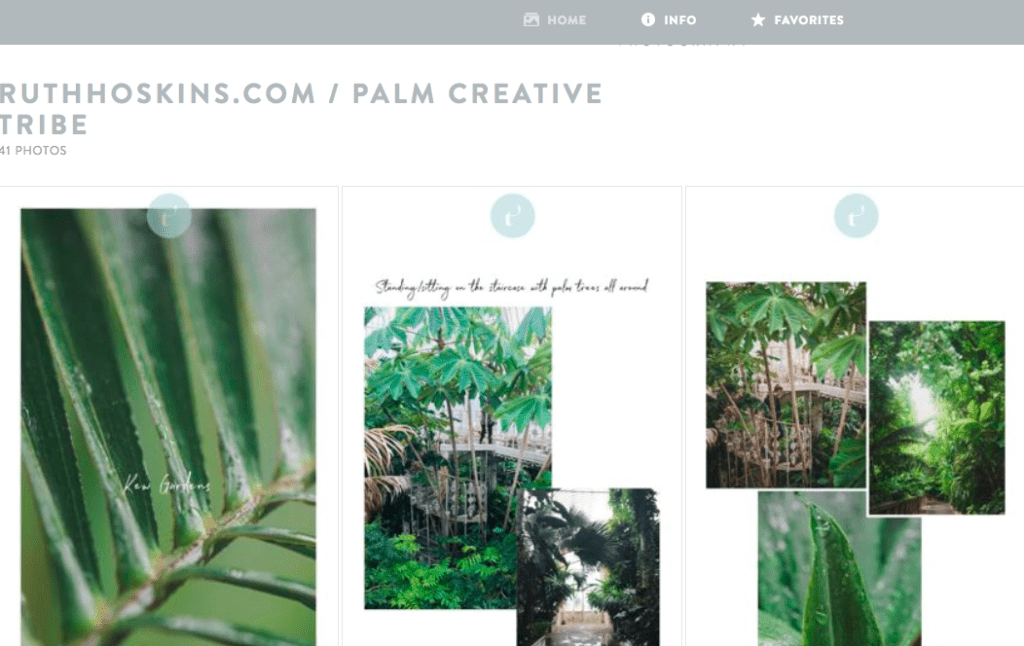 I wanted photos that reflected me as a human and business owner, that were informal, FUN, and showed my personality and reflected my story in an authentic way.
I have to admit, I was REALLY nervous about having my photos taken. I'd just got back after spending three months on holiday, living in campervan, making beers and pizza on the beach a regular thing so I'd put on weight and I also hate my post-chemotherapy hair so it was quite a big deal.
I didn't need to worry. It ended up being such a fun day, Kelly had planned out the locations we were going to visit – including palm trees (yes, they exist in London), Kew Gardens and also some pastel coloured street locations around Richmond and Twickenham.
I chatted to Kelly a bit about the process, because I figured that doing a photoshoot for your new personal brand can be daunting if it isn't something you have done before. So Kelly offers tips to consider when you are planning it:
Make it unique
As well as being less pose, more play, it's important to think about what makes your brand or business unique and use that in your images.
For me, my inspiration is West Coast sunsets, Miami South Beach and the palms and colours of Catalonia, where I used to live. So even though we were in London, Kelly knew that finding pastel houses and palm trees was going to help tell that story and make it unique.
Choosing a photographer
This can be the hard bit but thanks to Instagram and Pinterest you'll be able to find lots of great, local photographers. It's really important to find someone right for you. You're going to be putting your vision in your hands. Kelly suggests considering:
Experience – look at their portfolio and make sure they have experience in similar projects.

Budget – is their price point right for you?

Location – do you need someone who's local or are you willing to pay for travel?

Style – this is really important – every photographer has their own style… dark and moody, bright and colourful, elegant and minimal, lifestyle, formal… its unique to them. When you choose your photographer you should LOVE their style, it should be exactly what you want for your website/social media and it should fit in with your own brand style.

Do you like them? – call them, chat to them, do you like them? You will be spending a lot of time with them and you'll potentially be nervous and need their direction/assurance during the session, having that rapport with your photographer will make your session a fun and memorable experience.
The brief
"It's all about having a shared vision of what the brief is" said Kelly. Understanding your brand, your what and why and the story behind your business is essential. Also it's really useful for me to understand how your brand will be represented online: the style, colour palette, website layout and where the images are going to be used."
Kelly sets up a private Pinterest mood board where her and her clients can post images that inspire them. "It's important to get a good amount of textures, colours, outfits, locations because this gives a really good visual brief."
It's also really important to think how the images will work across your social channels too, so think beyond the blog. For me, my colour palette is very pastel and palm based (you can read more on my brand story and why it's all about palm trees here) so it was important that the London shoot we did would work with this too.
This brief is ultimately the blueprint which acts as the foundations for your brand image and it's very important that this is comprehensive and unambiguous. Get creative and start your own mood board, filled with close ups, product shots, location ideas and styling inspiration.
Location
Kelly says: "Location is everything. Without the right location the images won't tell your story effectively. In a lot of cases the location might be their shop or studio but it's good to mix it up and get some outside portraits too. I always test out locations before the session as part of my brief and each location in shot and agreed beforehand.
If you sell products, or are a maker, it's important to remember that product shots in a lifestyle setting are way more popular than traditional catalogue shots.
Styling
What to wear was my biggest dilemma! In the end I packed 6 outfits, probably too much, but it was important to me to have a big variety of clothes and accessories. It's worth shopping for hats, earrings, necklaces and scarves so you can mix it up on the day.
This is just as important if you are photographing your product. Props, flat lays and settings are everything. Take inspiration from Pinterest and Instagram and use that in your mood board. Think about the light too because that can make a big difference on the day. It's often much better to shoot products outside in a natural light.
Kelly says: "Every element is part of your brand story and the colours and textures we talk about in your brief come into play here. This is often overlooked but when done properly it will really elevate the aesthetics and give depth to your imagery."
Props to consider if you're a creative business owner:
Flowers

Coffee

Laptop

Smoothie

Nice looking pen and notebook

Choice of two hats

3 x earrings

Glasses

Sunglasses
Kelly says:

"Think about your brand style and incorporate your brand colours and tone into your outfit choices. Are you doing behind the scene photos? What props will help tell your story?
I've worked as a family photographer for 7 years, often my clients really don't know what to wear and how to dress all family members so they look coordinated. I always recommend using neutral earthy tones such as blues, whites and creams and then I'll consider the season. For example in Autumn I might suggest that my clients incorporate some reds, oranges and yellows. This can very simply be put together with jeans a white shirt and some beautifully coloured knits.
Pinterest has fabulous 'what to wear' boards that I send to my clients and this can work really well if you're a brand and you need help finding the right look.  "
Once you've got a style worked out, go into the details: bags, hats, shoes, scarves. If you are a minimalist brand you want your outfit to reflect that. You are going to be representing your brand and you don't want to have too many elements to your outfits. Every single detail will help in connecting you with your dream client.
Details
Kelly says: "I LOVE details, the small behind the scenes photos which show you working, getting right into the nitty gritty of what you do and your process. This can be anything from a florist cutting the stems from her roses or arranging a beautiful bouquet, an artists paint brushes left in her studio with the paint from her last painting, a writer busy typing or the crumbs from a delicious cake. This is the prose in your unique story!"
A good photographer will help you pick out these small details and tell this story.
Scheduling & Shot List
This is crucial to location shooting and being prepared helps the day run smoothly.
Kelly says: "I always have a detailed schedule which takes into account timings, travel, breaks and your shot list.  A shot list is a list of the images needed fulfil your brief… the hero photo for your website, the portrait for your about page, gallery images and product photos."
Weather
In the UK we are weather obsessed! Of course if you live somewhere with amazing weather then you are lucky on all levels, but the weather will play a big part in the day. Maybe your brand is dark and moody and atmospheric, which will of course work best on dark days.
Kelly advises: "You have to be prepared! I choose locations that have undercover options. I'm always prepared to work around the weather on the day, ensuring we have all the equipment needed to keep us dry in between! Always have a Plan B.
Overcoming nerves
Everyone feels nervous… really everyone to a certain degree when they have their photo taken and that's OK, give yourself permission to feel nervous, because it's probably hard to tell where your nerves end and your excitement begins.
Kelly says: "Building a rapport with my clients before we work together is really helpful for helping to overcome camera shyness, and as its a vital part of the brief for me this is just part of the process. All of my sessions are fun and relaxed… it's such an exciting part of a client's business journey, finally seeing your creativity come to life in photos knowing that your images will soon be telling your story to the world, it's a happy occasion and one I work hard to ensure is a memorable one."
You can follow Kelly on Instagram and see more of her work at Kelly Back Photography.
Is this helpful? Let me know your experiences below.