Could you live with your kids or family in a 14 square-metre space? Over the last two summers I have lived in our campervan – Annie – with my husband and two of our kids for a total of 6 months.
No kitchen. No toilet or bathroom, just a few bags, a gas burner, a tent, games, books and WAY too many condiments. We swapped personal space for outdoor living, road trips and memories. Here's what I learned:
Van life is NEVER boring
Quite a lot of people ask if we get bored on the road. Someone told me that they couldn't cope with the idea of more than 2 weeks of travelling, because their kids loved structure. I think they thought we were weird, but I put it down to people not knowing what they don't know until they know it. There's a reason why #vanlife is such a thing and boring is one thing it isn't.
There are SO many highs: Watching the sunset over a deserted beach is just the best, meeting like-minded travellers and sharing stories over a cold beer is another. Rocking up to a new campsite with new places to explore is a feeling that's hard to beat. To me, this is freedom.
Of course there are lows: Getting the van stuck in the mud as we tried to drive onto a beach in winter with no phone signal while the kids were at school an hour away. Sleeping out wild on the beach in Cabo de Gata, Almería surrounded by waves and gently grazing goats. Perfection right up until an insane storm brewed up and broke the pop up roof of our van. It took us 3 hours to fix it. In the middle of the night, in the middle of nowhere.
There's always something new to discover, a new story to unfold, a new experience waiting around the corner. New laughs, new memories and finding out new things about ourselves.
I can relax deeper than I thought possible
The beauty of longer trips is that you slowly relax into it. I can't describe how relaxed and laid-back we all are at the end of a three-month trip. It's like waking up from the most restful sleep you have ever had, all of the time. The combination of outdoor living, freedom, adventure and taking pleasure from the small and the simple is better than any spa break can give you.
A new normal pervades in van life. You're guided by the sun, the moon and the weather. Going with the flow and travelling slow. Lingering over every day chores and swimming outside every goddamn day, because we can.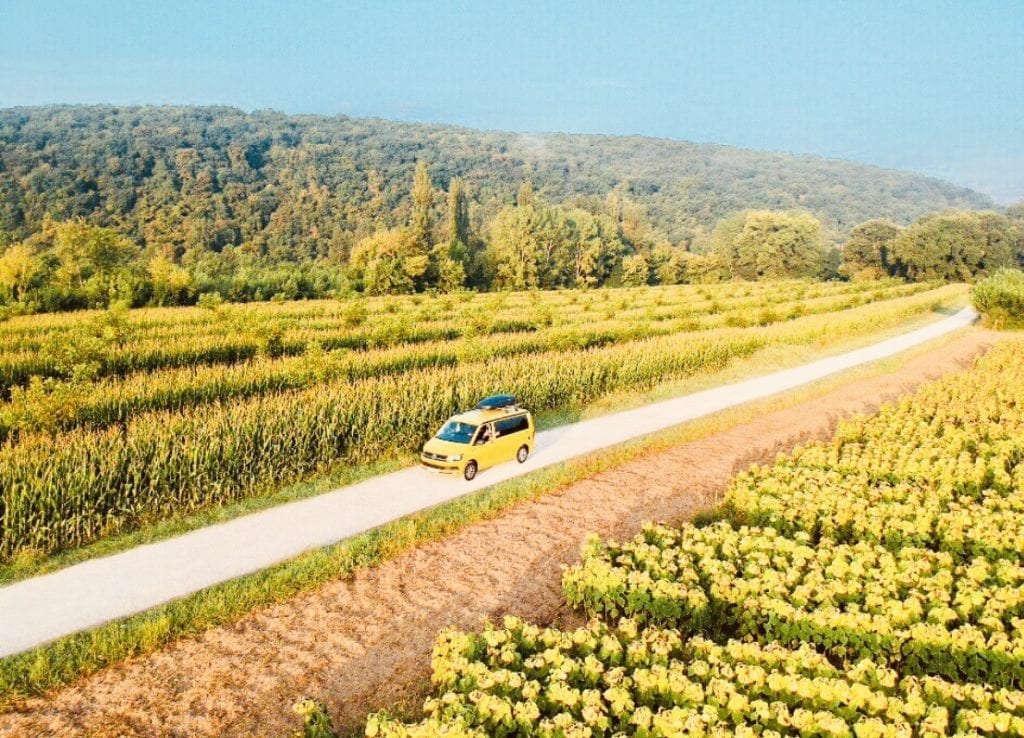 My children blossomed
Watching the kids jump into an ice cold-river, make friends with kids of all nationalities where language is no barrier or hiking up high to look for butterflies fills me with love and gratitude every single time. Their inner confidence has grown beyond recognition and I'm pretty sure it's a combination of starting a new school in Spain and our van travels. They are curious about cultures and language and currencies. They imagine what life was like before, and what it will look like in the future.
It's learning that doesn't feel like learning.
The freedom they have to explore a campsite, make shopping lists and get the bread every morning. A little bit of independence that I could never give them in a city. Armed with walkie talkies rural, outdoor life feels safe and special.
Size and space doesn't really matter
Whether it's personal space or physical space, you learn to live with what you've got. The biggest lesson we learned is that we don't need too much.
But packing to live in a van for 12 weeks is an art form that we are yet to master! We've packed way too much every time. Next year we will pack super-light and plan to build a little kitchen on drawers that pulls out from the boot. 
The physical space limitations just mean you spend almost all the time outside. And when it rains, it's such a cosy feeling sitting in the van playing cards and listening to the rain falling.
The journey is as exciting as the destination
Yes, my kids constantly ask if we're nearly there yet. They make the back of the van look like a massive landfill site. There are constant wee breaks, endless awful renditions of Shakira songs, arguments over wrong turnings, torrential storms and traffic jams to contend with. But we have so much fun on the journeys too.
I will never forget driving over the moonlike landscapes of Pag, a Croatian island and thinking we were on the mainland until we realised we had to take a ferry across. I've never been anywhere so windy. Looking back at the mysterious mountain range that lines that part of the coastline.
Or rocking up to watch the sheep being put to bed in the Cevennes National Park – an arresting and suprisingly emotional event. Or driving high up in the Pyrenees on crazy-snow and hairpin-bend filled roads listening to Van Morrison and thinking this is a moment I will never forget. 
Travel feeds my creativity more than anything else
I love a good sunrise, and absolutely love waking up before anyone else and writing. I designed my new business looking out onto Lake Garda at sunrise. I've worked in Croatian campsite bars, in mountain chalets in the snow, in the van, in a hammock in the Catalan countryside, in city cafe's in Antwerp and under a tree in Vondel Park in Amsterdam.
Every place feels special and brings out a different story that was deep inside me all along, but it only reveals itself to me when I'm ready.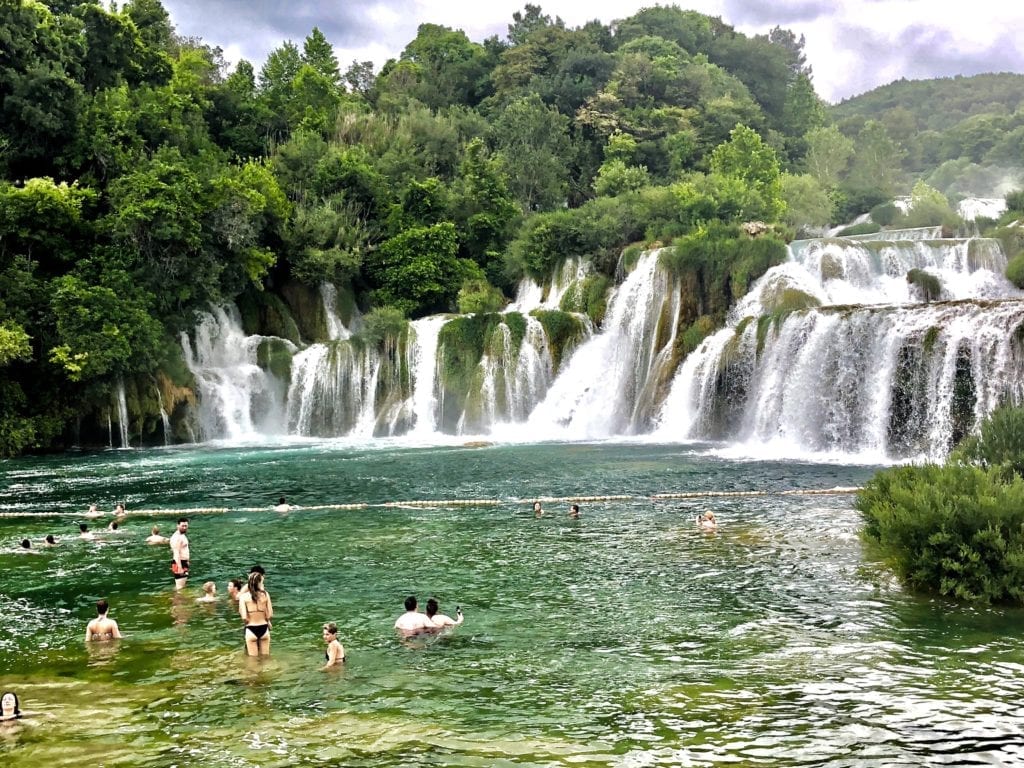 You become infused with the stories of people you meet, the places you go and the experiences you have. Right now it's autumn in the UK and looking back and writing about our summer feeds my sunshine-loving soul, it will keep me going through the winter and makes me feel happy and grateful for the time we had.
It's a pleasure to take pleasure in the every day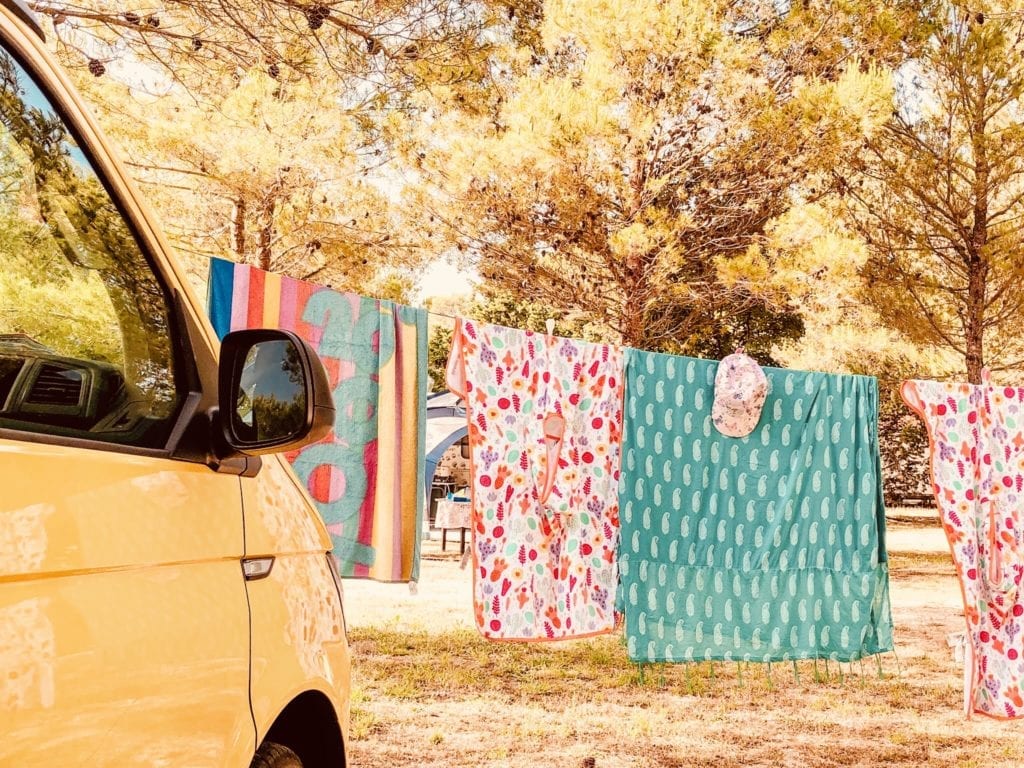 Washing up outside with the sounds of nature transforms a chore into something amazing and meditative. Little routines like taking a shower outside, or filling up the water, or making a meal fill us with pleasure because we fully immerse ourselves in them.
We give ourselves to the moment in a way that we do less often at home, and I think part of that is because we are surrounded with less stuff, less things to move around, less actual baggage. This is what freedom feels like to me and I'm counting down the days until our next trip.
What do you think? Is the van life a dream or nightmare for you? Could and would you do it?