If you don't want to be pulled along by a tidal wave of tourists read my guide & map to vibrant, buzzing Barcelona for creatives just like you.
Barcelona.  A city where you can have a life-affirming experience with Gaudi one minute and be hanging out in a buzzing chiringuito twenty-minutes later. A city where the winding gothic streets give way to the ultra-modern Port Vell, home to slick super-yachts and high-end restaurants. A city full of palms and sunshine and lazy brunches and warm breezes.
For me, travel isn't about box ticking or racing around the major sights. I much prefer to go local and find real and authentic experienced and be surrounded by locals rather than tourists. If you are like me, craving a more authentic time in Barcelona check out my interactive map below, where I have listed all my favourite places and read my guide below.
Hang out in Barcelona's most creative barrio, Poblenou
El Poblenou is the creative heart of Barcelona. Home to artists, designers and makers, there is a post-industrial cool vibe that hasn't yet gentrified itself as much as places like Shoreditch, London. It's a place full of life, creative co-working spaces and artisan coffee shops but it also feels real. It's nearby the buzzing Glories district, where you can also find the excellent Museo del Disseny (design museum) which is well worth a little detour.
I strongly advise you to forget the main Las Ramblas that leads down from Placa Catalunya to the port. It's a place for cruise-ship tourists, pick pockets, cheap tat and over priced sangria.
Instead, come to Poblenou and spend an afternoon or evening slowly working your way slowly down the Rambla del Poblenou. There's a great local, creative vibe and plenty of low-key outdoor cafes and bars. It starts right up by Diagonal and opens up on Barcelona's best beach, Bogatell.
Get ready to swoon over the vegetable displays in Casa Ametller, an amazing Catalan grocers chain that also does take away sushi and other food as well as an in-house butchers, fromagerie and fish counter. The way  they display and keep their produce is awesome. The name actually means House of Almonds, which I always think is such a beautiful name for a grocers.
For interesting tapas with a twist eat at El 58. The aubergine roasted in honey is phenomenal, if it's on the menu. They open reasonably early and don't take bookings so if you go before 9 you shouldn't have to wait for a table in the rustic but charming dining room.
We spent two years trying out different Indian restaurants in Barcelona, only to find out the best is  on our doorstep. Swad wouldn't win any awards for design, but I don't care when the food tastes this good. They do a set lunch for under EU11. The malabar fish curry is perfection to me. Packed with curry leaves and mustard seeds it is so utterly flavoursome. I could literally eat it everyday.
Stroll down the rambla, pausing for a coffee or pre-prandial vermut (because Catalans are big on vermouth, as you'll see from the numerous "Vermuterias" dotted around) or buy a helado at Horchetaria el tio che.
At night, Balius is a hipster hangout – part cocktail bar, part tapas bar, there's nowhere better in Poblenou to spend an evening.
A secret space I love is Palo Alto – a small garden oasis that is home to creative companies. On the first Sunday of every month it draws in the crowds who flock to the Palo Alto food and creative market.
Shady days hanging out in El Born
To stroll, eat and watch, you can do no better than El Born. It's definitely well-marked on the tourist trail but is still a magical places to stroll the narrow streets, finding unique and independent shops to browse and shady squares to sip a cava and watch the world go by. Slightly less busy than Gotico and the area around the Cathedral, this is one of our favourite places to spend time, whether that's writing and working in a cafe or meeting up with friends for lunch.
All the streets are pretty but Carrer del Carders and Placa de la Lana are two of my favourites. There's so much to see from street art to quirky Bazaar shops. And Passeig del Born, the main artery that leads from the Born Cultural Centre to the Santa Maria del Mar church is beautiful and atmospheric. There is a beautiful book shop in the Cultural Centre with beautiful coffee table books in a variety of languages.
For food and drink, this barrio is home to many of our favourite places to eat.
Koku Kitchen Buns is probably our most visited restaurant. They have just got this place so right. On the menu is an ever-evolving range of Asian food from but are really known for their bao. I always eat the Sexy Veggie bao, or their Bánh xèo, a savoury Vietnamese pankcake made with turmeric and stuffed with coriander, prawns and greens and served with the classic dipping sauce of rice vinegar, soy and chillie.
I also love the Pans Club for tasty and freshly made quiches, breakfast bagels, perfect for taking away into the shady palms in the Parc de la Ciuatadella. The park is one of my favourite places to hang out, in fact I used to do yoga classes twice a week under the gentle palm fronds by the lake. A slice of life happens right here, people are doing everything to hula hooping to spoken word and everything in between and the fountains are pretty impressive.
There is a beautiful square of Carrer de Carders which has the most beautiful plant wall. I love that it's actually a private house, lived in by an elderly couple who may or may not be aware that their wall is all over Instagram.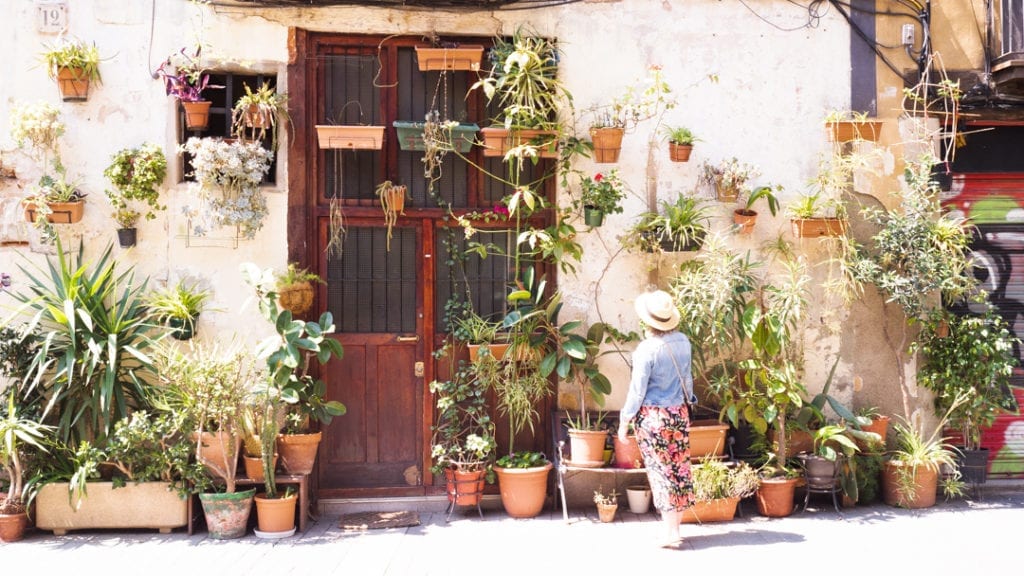 Do the beach like a local
Barcelona and beach life go hand in hand.  When you've stuffed your face full of tapas and taken an overdose of culture, go cool off by the beach. The nearest beach to the Centre is Barceloneta (also a vibrant barrio of restaurants and old fishermens houses). It's always busy, even in Janaury but a long walk along the promenade cannot be beaten. Walk past the Olympic port, now full of chain restaurants and over priced port restaurants, and head to Bogatell, my favourite beach in the city. It's great at any time. When I picture my happy place it's definitely walking along the palm-fringed beach path, watching the skaters/surfers/rollerbladers as the sun sets over the city beyond.
If you want to eat on the beach, Can Fisher is a lot better (albeit more expensive) than most of the other beachfront restaurants and chiringuitos. Great for tapas, rice dishes and sparkling fresh market fresh seafood. If it's on the menu, I love slurping on their ravioli con gambas, a rich and bisquey delight of a dish.
Head to the hills: Montjuic and El Bunkers del Carmel
Ok, here's the thing. Heading for the hills will give you the best views of the city, and you really don't want to miss it.
Montjuic is pretty easy to access from the city, via a funicular on Paral.ell or via the magic fountains and the steps that lead from the Placa d'Espanya up to MNAC, the museum of Catalonian art that watches over majestically over the city. Whichever option you take you are spoiled for choice, depending what your thing is.
But aside from the attractions there are amazing views from everywhere you look as well as secret spaces to explore. My favourite secret space is the Mossen Costa i Llobera Garden (also known as the Barcelona Cactus Garden) where over 800 types of succulents grow and you can watch the palms framing views down on to the port and Mediterranean sea.
For food with a view, you can't really beat Martinez. It's a high-end chiringuito set up in the hills with insane views and great food and a holiday vibe. It's a classy, chatty kind of place that many won't know about but I think will love and the tapas is top-notch.
El Bunkers del Carmel offer one of the most Instagrammable views of the city and it's a popular spot at sunset. Take beers and snacks for a long and hot climb up to these old war bunkers, dating back to the Spanish civil war. The views of the city bathed in evening lights are unforgettable and I don't think you should miss it!