We left our house, business and everything behind (except our kids) to move to Barcelona for two years. What could possibly go wrong?
Ever fancied packing up your life and kids and moving abroad? Maybe you fancy the idea of a family gap year somewhere exotic, or maybe you're thinking of a more permanent change. Until you've done it can seem like a massive, unachievable feat. 
It's very easy to convince yourself that it's not possible because of family/work/school/money reasons and we'd talked ourselves out of it in the past, but this time something clicked and we just said yes!
We had recently been through breast cancer (me) and grief (losing my mum) and that was definitely a catalyst for change. But we had a home and business in York, UK. Our kids had best friends and a school routine. We knew it wouldn't be cheap (and this was before Brexit) and we didn't speak much Spanish. In fact my husband had never even been to Barcelona.
I'm sure not everybody was happy for us, but I knew this was something I had to give myself permission to do. 
We flew to Barcelona to check we liked it (ummm…..that was a big YES, of course) and found a house with a garden and pool in Vallromanes, a small village near the wine producing town of Alella, picked because of its proximity to the school we found and the beach.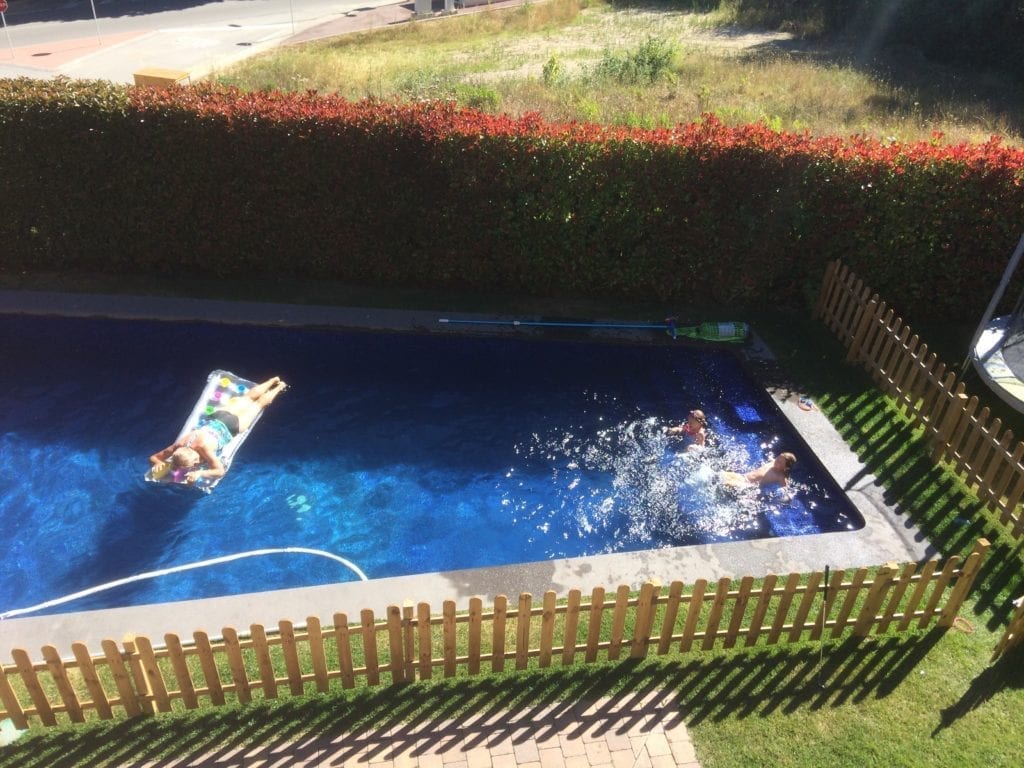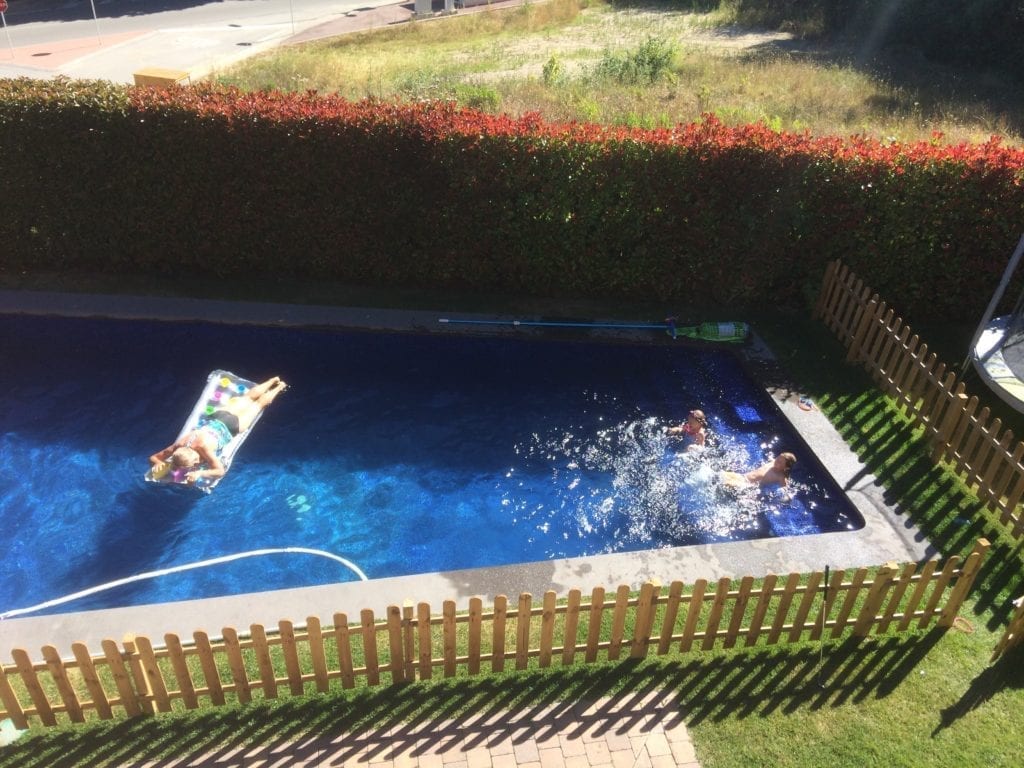 School was our biggest headache because as much as we wanted our kids to have an authentic experience we also wanted them to learn Spanish so decided against sending them to a local Catalan school (where they would only be taught in Catalan) and enrolled them in an ultra-modern trilingual school that overlooks the Mediterranean.
Feeling pretty happy with our decision and lacking in patience to wait for the move to happen, I just had to wait for my chemotherapy to finish. We rented out our cottage in York on Airbnb and it was instantly booked out for months to come. We had a big "hasta pronto" party in our local pub (you should check the Golden Ball out if you're ever in York) and said our farewells to our family, friends, neighbours and colleagues.
Suddenly it was "bon dia Catalunya." Without speaking much Spanish and definitely no Catalan we tried our best to make friends in the village but it wasn't easy at first. Our holiday-level Spanish didn't really get us anywhere fast as we tried to decipher everything from menus to hospital notes in Catalan. We felt pretty hopeless!
Looking back I'd say that to truly "settle" took us over a year. The first year was filled with a lot of firsts and challenges, a lot of highs and lows. Making new friends in a new culture takes time! Even though I studied the language for hours every week, it took much longer than I expected. The second year was more about cementing relationships and adventure and feeling more at home here.
There has been so much to love, to laugh about and to remember, that I have a whole bunch of material to write up over the next few months. But these are the most important things we've learned.
1. Expect the unexpected (and get health insurance)
In two years we had two medical emergencies and my husband got diagnosed with early stage MS. In just the first week my daughter got pneumonia and I got a spider bite. Both trips to A&E were horrid and hard because we hardly spoke any Spanish. We managed to muddle through and it was then a big incentive to learning Spanish as intensively as I could.
2. Brexit is a bummer
Without going into massive detail here on the generation-changing, political, ideological and social mess that is Brexit (hint, you can probably tell how I feel), Brexit has been an absolute bummer. On an ideological point of view I am heartbroken for the future generation. That they have to bear the results of something that a load of sly and desperate politicians fed to an older and less-educated generation of voters is tragic on every level. With a 23 year-old stepson and two daughters I cannot begin to imagine how this is all going to look in the future. On a personal level here, the sad fact of Brexit is that our life here now costs us approximately 30% more than it did two years ago and we haven't had a 30% increase in income so it's a contributing factor in moving home.
3. It's not just kids that pee anywhere
This might seem weird but people (especially men) pee everywhere. Right outside our apartment in broad daylight, on the ski slopes, less than 50 metres from a shopping centre that has an abundance of toilets. Even if you walk past they will not turn around to be more private but just continue to pee in front of you and LOOK YOU IN THE EYES CASUALLY as you walk past with your kids who are giggling wildly. 
4. Diving in is the only way
Despite taking 1-2-1 Spanish classes, and hearing people tell me that Catalan people were closed, I decided to throw myself into the community, school and life over here. But it definitely didn't come naturally to me, I was a bit shy and I was embarrassed by my Spanish. But as I watched the kids throw themselves into their new school life in a way that made my heart swell with pride I decided I had to up my game for their sake. So I WENT FOR IT.
Every day after school I sat in the cafe and spoke in Spanish with other parents, and especially grandparents of my kids friends, who were so friendly and encouraging.
We got invited to a kids party the second day of school and had no idea what to expect. We turned up with actual gifts not realising that a subs system took care of presents, with a nominated parent treasurer and parents buying the presents for the kids to open at the actual party. A whole new system and a new culture, even just around kids birthday parties. We had to find our feet fast!
We made friends with people and got invited to watch local events (most of which involved fire), skiing, dinners that start at 10pm and go on until the early hours. Lunches where it is not uncommon to have entire the entire class and families lunching together. Yes, actually calling a restaurant on Sunday morning and saying "can we have a table for 60 in an hour please?" Somehow space is always found.
5. Flip flops are only for the beach
As a person who pretty much lives in denim shorts and flip flops I was pretty amazed to find that people are super-dressy on the whole here. School pick-up time is a bit of a catwalk parade. In our school there's definitely no shortage of high heels, botox and bling. I quickly learned that flip flops are only considered appropriate for the beach and it's true that as you walk around, everyone in flip flops is a tourist or ex-pat (it doesn't stop me wearing them almost exclusively from May to October).
6. The rain in Spain falls mainly in March and April (not on the plain)
They say nothing goes to plan but the first few weeks were pretty eventful. We arrived mid-March thinking summer would be on its way. It actually rained non stop for the first few weeks. We've just had our third April here and lots of people visit thinking it's warmed up by spring and book expecting to come and be on the beach. We've learned it is actually the wettest and most unpredictable of month. Even January and February seem to have more sun! If you are looking for sunshine and planning a trip to Spain in spring, remember it takes a bit of time to warm up.
7. Life is less about stuff for us now
We moved into a big house because we had never had space before. Although the house was lovely and fitted in large groups of our friends and family, we felt quite disconnected being stuck out without any public transport, especially given we both work from home. But we did love having a big garden and a pool that were so expensive to maintain (I don't expect any pity here ;). The utility bills were crazy-expensive too running into more than eu500 per month just for water.
When our contract was up we jumped at the chance to move into a 100 square metre apartment near the beach. We realised that although we thought a big house and a garden was what we wanted, we love living in a city with street life on tap, green juice and tapas at every turn! We will go home to our small but beautiful cottage knowing it was what we wanted, after all and that, for us, space is over rated.
8. Kids really ARE adaptable
My biggest worry when we made the move was of course how the kids would cope. They loved their school in York and had a good group of friends. I really didn't know what to expect when they toddled off in their orange and grey uniforms into school, which although is an international school is 80% Catalan families. Despite looking like mini Guatanama Bay inmates they made heaps of friends, very quickly. Although they have missed their UK friends and can't wait to be reunited they really have been very happy here and have, like us, formed friendships that will last.
9. Catalans are passionate – especially about politics
There are so many random memories of street life that will stick with me. The well-to-do older guys drinking a bottle of red wine at 9am in a cafe like it's completely normal. The strangers who hug and kiss your bewildered child as they walk past. The 70+ year old women who were having such a big argument outside the launderette that I almost waded in to stop them before it got physical. Catalans are passionate, proud and giving, especially when it comes to football and politics.
We've been here through what has undeniably been an interesting political climate. A time where many Catalan people have (quite rightly) angry on an ideological, political and cultural level. It's been a time of pots and pans being banged every night in protest to Rajoy and the Spanish government. Even on the side of the road as we drove up to the mountains, every village had a big group of protesters. A lot of foreign people couldn't understand it and were posting on the Facebooks groups to ask if Barcelona was a safe place to travel – yes it is – but being here in person and talking to Catalan friends we realised this is a very passionate place. Everyone talks openly about politics and seem to love a foreigners opinion so read up and be prepared to offer an opinion and join in the debate!
10. We have new skills and friends for life
As well as a mega dose of Vitamin D, we are lucky enough to be going home having made some wonderful friendships. We've also learned a whole bunch of new stuff, that has opened our eyes and hearts and will play a part of our future. Me and the kids can speak pretty good Spanish. Tony, my husband, has learned to sail, and can skipper a yacht officially – thanks to our great friends who have a boat here. Being near the mountains has given us plenty of opportunity to learn to ski.
11. Catalan kids are definitely kids for longer than in the UK
Maybe it's the real focus on family, and the amount of time that kids spend with their grandparents here. Maybe life is generally less spread out with less distance between families. It's the norm for people to live at home until they get married. I've spoken to numerous Catalan friends about this who all agree, childhood is preserved for a bit longer, with sleepovers and teenage parties happening a bit later.
12. Wine, cheese, jamon and cava are taken very seriously
Talk with a Catalan about any of the above foods and you will enter into a big discussion about the absolutely best place to buy and eat jamon. Good tapas places actually have a dedicated jamon cutter: the star of the restaurant's show will often come over and go into great detail about the provenance of the ham.
I even met a guy when we were skiing near the French border why I was drinking French red.  He was horrified and insisted that I have a glass of his red (it was in fact very good) and asked me – without a hint of irony – "what do the French know about wine?".
13. Catalonia is completely awesome, you really should visit
We probably don't need to tell you about how awesome Barcelona is, it's pretty well documented. In fact we are spending our last few weeks making a little movie and writing up the best bits. But I think the thing we have enjoyed most is exploring Catalonia. The landscapes and villages and mountains are imprinted firmly in our hearts and minds. We bought our VW campervan Annie last year and have explored as much as we possibly can.
The magical Pyrenees are under 2 hours away and we have spent many weekends there, in all seasons. They are utterly majestic.
The charms of the Costa Brava will wrap their arms around you, bathed in a gentle breeze and the sound of the turquoise sea lapping gently against the cliffs. You can read about Begur, one of our favourite parts of the Costa Brava here.
The colours of Catalunya are bright and led by the ever present golden sunlight, that keeps daytime temperatures pretty nice all year round. It's fused with the deep blue sky, and earthy greens and the deep reds of the mountains that surround it. The interior is as incredible as it's coast and I highly recommend you come and explore!
Reflecting on this, we kind of always knew this wasn't a permanent move. Although we are supremely sad our sabbatical is coming to an end it has given us all something new. The kids will go back to school speaking another language which will make it easier for them to learn more languages in the future. We know we will keep travelling, in some way, and we are very open to do something similar again in the future. We really feel like the best is yet to come!
Is moving abroad something you have always wanted to do? Or have you already done that and learned from the experience? I'd love you to share your experiences with the community here.
Clarity + Chemistry Launching June.
Fall in love with your business and book more dream clients.
Clarity + Chemistry is a group programme, with 6 weeks of topics + assignments PLUS 6 months of accountability and support, that helps you find chemistry within your business so that you can raise your vibe and your dream clients FLOCK to you! I cannot wait to share it with you and watch you grow. Sign up here if you want early release info…